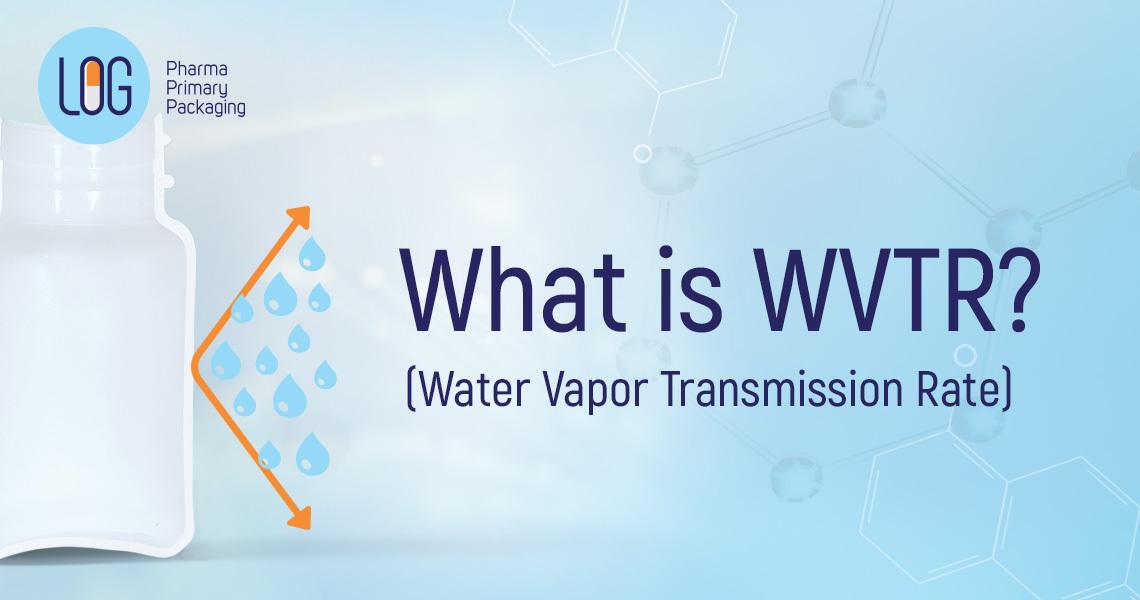 With a high percentage of API's sensitive to moisture, the moisture-barrier characteristic of a pharmaceutical packaging is gaining greater prominence. Within this article, LOG presents insights about WVTR testing and its specially designed moisture-barrier packaging.
Water Vapor Transmission Rate (WVTR)
Definition: Water Vapor Transmission Rate (WVTR) or Moisture Vapor Transmission Rate (MVTR) is the rate at which water vapor will permeate through solid material over a specific period of time.
Permeability: All polymers are permeable to gases and vapors to a different extents.
Rate in Packaging: When referring to packaging, WVTR is the rate at which water vapors will permeate the package wall.
Measurements: WVTR is measured in mg/Day per container.
Delving deeper into the process of water vapor permeation, CEO of Montesino, Peter Schmitt has further explained permeability and dissolution of moisture in pharmaceutical packaging in one of LOG's webinars:
A very low water vapor permeation rate is what makes a bottle considered a moisture barrier bottle. The main factors influencing the WVTR of a bottle are the characteristics of the raw material as well as the wall thickness of the bottle. The following graph shows a comparison of various raw materials and their moisture barrier characteristics.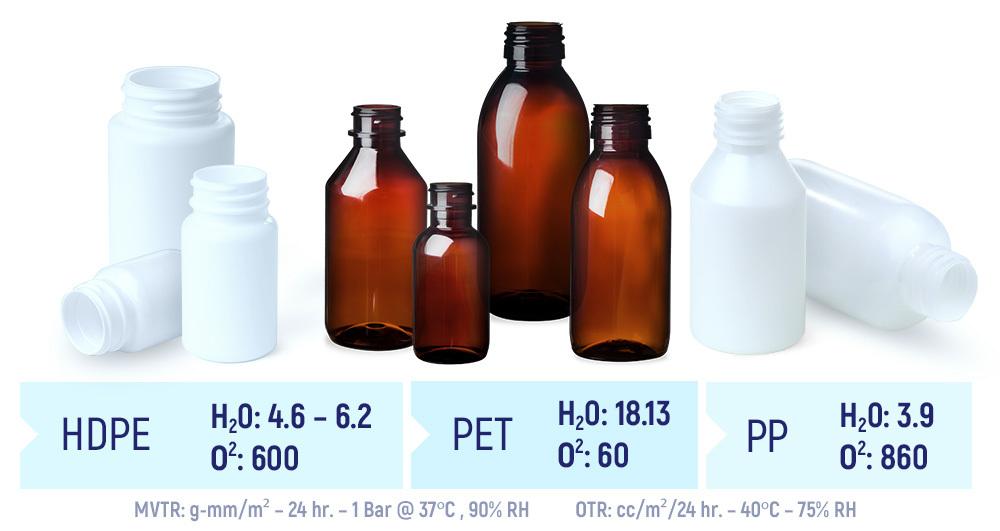 Testing Container Closure Systems for WVTR
Industry standards provide guidelines on how to perform WVTR testing on container closure systems and films.
LOG adheres to following two standards to measure WVTR of pharmaceutical container closure systems:
ASTM D7709 – Standard Test Methods for Measuring Water Vapor Transmission Rate (WVTR) of Pharmaceutical Bottles and Blisters
USP <671> Barrier Protection Determination – Method 1, which is based on ASTM D7709
The stages for testing primary packaging include the following:
Filling the test samples with a desiccant

Weighing the samples and placing them into a climate chamber for 35 days
Every 7 days, the samples are taken out and weighed
The WVTR is then determined by fitting a linear regression of the change in weight over time
LOG's Barrier Packaging Solutions
MonoBlock® and MultiBlock® offer outstanding barrier protection for moisture-sensitive formulations and are commercially used by pharmaceutical manufacturers worldwide.
MonoBlock®
The MonoBlock® bottle provides protection for solid and liquid formulations sensitive to moisture permeation.
Tests have shown, that the 60ml MonoBlock® barrier bottle has up to 4x better moisture barrier performance compared to a standard HDPE bottle.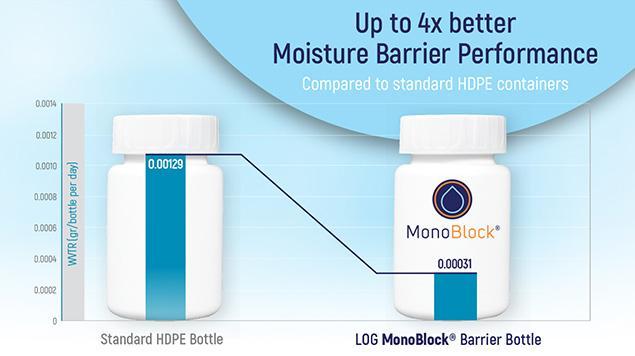 MultiBlock®
The MultiBlock® bottle provides protection for formulations that are sensitive to oxygen as well as moisture permeation.
Superior performance, tests have shown that the 60ml MultiBlock® bottle has a up to 12x better moisture barrier performance compared to standard HDPE bottles.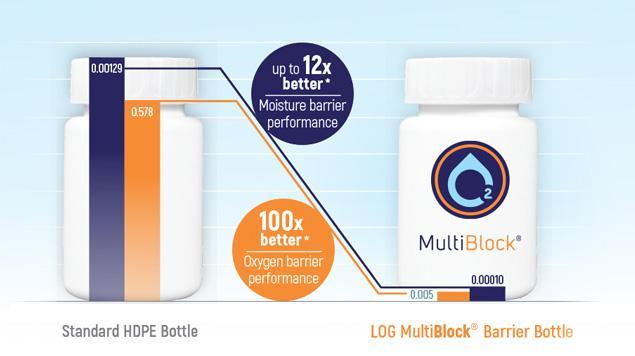 For you who are working with pharmaceutical formulations or packaging, LOG's barrier bottles bring tremendous value:
Reduce the need for desiccants
Increase confidence to pass drug stability test
Shorten drug formulation development time
Extend shelf life
Reduce packaging size
LOG's barrier bottles are used and endorsed by global pharmaceutical companies and are commercially used in the market for the last 10 years. With LOG's professional expertise in active and passive barrier packaging, our team of experts would be more than happy to speak with you further and provide you with samples of our innovative barrier packaging solutions for your moisture-sensitive formulations.
About LOG
For the last 50 years, LOG Pharma Primary Packaging has been serving as a leader in the global pharmaceutical packaging industry, delivering innovative, highly engineered, active, and passive packaging solutions from its manufacturing sites in Israel and Hungary.
LOG adheres to the strictest quality manufacturing standards and is fully committed to compliance with GMP standards for primary packaging. The quality management systems (QMS) of both manufacturing sites are ISO 9001 and ISO 15378 certified.
Stay tuned on new pharma packaging innovations from LOG by signing up for their newsletter and following them on LinkedIn.